REAP - Rough Edges Art Productions
REAP is a group of artists and art lovers who come together to promote and present new and emerging visual artists, musicians, dancers, filmmakers and poets engaged in challenging, and experimental work.
Our exhibition program is virtual and features a different artist on an ongoing basis.
REAP Happenings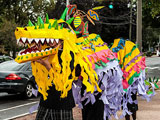 REAP Street 2014 Saturday September 23 1 - 4PM along three blocks of sidewalk in Downtown Windsor.
The 2013 REAP Street pop up arts fest was a wondrous success with art performances, music, and art installations from several artists engaged in exciting, fun and experimental work. Art was everywhere in hidden and visible spaces along Broad Street in Windsor, CT. It was a well-attended event with people from neighboring states as well as townsfolk. See event photos on the REAP Street page.